MY SELF ENLIGHTENMENT MISSION STARTED SINCE 1989
2000 YEARS OLD AJANATA PAINTING ARE
ALIVE TREASURE OF INDIAN CULTURE
EDUCATION, RESEARCH & RESTORATION –
THE AJANTA ART AWARENESS MISSION
AIMS TO REACH –
100 CRORES

PEOPLE

IN THE 

WORLDWIDE
© 2023 prasadpawar. All rights reserved
AJANTA PAINTING IS A MIRROR OF

INDIA'S ANCIENT HISTORY

अजंता पेंटिंग

भारतीय प्राचीन इतिहास का दर्पण है | 
RESEARCH
RESEARCH OF AJANTA PAINTING (SIBI JATAKA CAVE NO 1)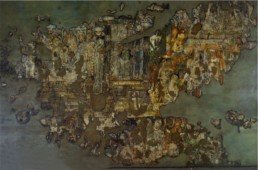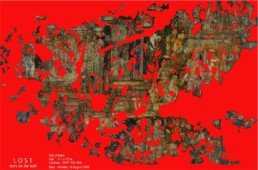 Contents of the Jatak stories are getting destroyed. Nose, ears, eyes, face, hands, legs like body parts are missing from some places while in some paintings about 62% portion is destroyed. Some paintings have been damaged more. Truth is that, invaluable treasure is getting destroyed slowly. 2000 years Ajanta has survived, but we can't predict how many years it will survive in future.
(Size : 111 x 72 inches , Location : cave no 1, Date : Monday 10 August 2009)
© 2023 prasadpawar. All rights reserved
READ MORE
---
RESTORATION
A LOST BUDDHIST WORLD - PRESERVATION OF INCH BY INCH
Restoration of paintings through computers and preservation at very micro level (sibi jataka cave no.1)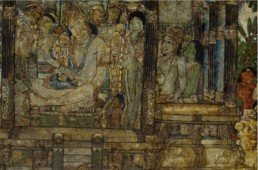 Reference of the story from this Jatak Tales starts and the portion which is damaged is being studied from different languages like Pali, Sanskrit and Simhali and English. From all of these literature and addition to this many of the experts from this literature have been contacted. It is also interested that the Jatak Tales which is been shown their whether it is found anywhere in India in the form of paintings and sculptures for this it is been discovered that what portion of the paintings has been missing and after that the natural flowers and leaves and show have been sketched, internal decoration sketches of the human being original feelings of the paintings the people who are available in the story and their position in the story.
Preservation of Inch by Inch, this Restoration work is spontaneous. For example I have preserved from cave no.1 and restored around 14,000 square inch area of the paintings in Phase 1. The targeted work from Phase-1 is around 2,23,700 square inches.
© 2023 prasadpawar. All rights reserved
READ MORE
---
EDUCATION -  FUTURISTIC DATA
This research shall continue in future also. While seeking the answer to this question by safeguarding our identity, we Indians can prove to be different from others with the use of this fantastic data futuristic data.
The Indian History of 2000 years ago,The Philosophy of 2000 years ago,The Cultural Heritage of 2000 years ago,The Social Life of 2000 years ago,The Rich Traditions of 2000 years ago,The Prosperous Civilization of 2000 years ago, andThe Art Form of 2000 years ago…Coming alive in front of your eyes and trying to communicate with you.This RESTORATION is an extremely holistic experience.
© 2023 prasadpawar. All rights reserved
READ MORE
---
prasad pawar foundation ,
Prasadpawar Foundation,
2, Kalasai Apartment, Mumbai Naka, Deepali Nagar, Nashik, Maharashtra 422009
91 – 9373050570